Welcome
At Casa Bella dishes enjoyed for generations in villages throughout Italy inspire our menu. During lunch and dinner hours, pastas and flavorful sauces simmer while meats and vegetables are slowly cooked to perfection. We continue to use the recipes that have been handed down from our mothers, uncles, aunts, brothers and cousins – from one generation to the next. Bottles of wine are uncorked to complement the dishes, crafted and informed by the culture of Italy. Our menu includes modern and original interpretations of handmade pastas, seafood, veal, poultry, steaks and prime beef that marry the freshest ingredients of the season with an inspired culinary approach. We continue to innovate and create recipes beyond our traditional style by adding new menu items influenced by both Northern and Southern Italian cuisine. Casa Bella is built on the foundation that superb food and gracious hospitality are the hallmarks of a restaurant that celebrates the very best of the Italian culinary experience.
Hours:
Lunch:
Monday – Friday: 11:30 a.m. – 4:00 p.m.
Dinner:
Monday – Friday: 4:00 p.m. – 10:00 p.m.
Saturday: 4:00 p.m. – 11:00 p.m.
Sunday: 3:00 p.m. – 9:00 p.m.
Did You Know?
You may already be aware that Casa Bella has been delighting patrons in our current incarnation for twenty years, but did you know when you step through our doors you're stepping back into history? In the winter of 1924-25, the Arthur D. Crane Company purchased 100 acres of land here in Denville, including a small lake called Protectory Pond, from the Sisters of the Sorrowful Mother of St. Francis. In the spring of 1926, a log cabin sales office was built, and development of Lake Arrowhead was underway. That simple log cabin is now the proud home of Casa Bella. Of course, there were many changes over the decades. The Lake Arrowhead Club was founded in 1927 and the log cabin at the entrance to the lake became Lake Arrowhead Restaurant, "the" social gathering place for residents for years. Later it became the Arrowhead Tea Tavern, after that the Flintlock Restaurant and was even rumored to be a speakeasy during Prohibition. Now home to Casa Bella, it is with great pleasure that we invite you to become a part of history as we celebrate daily a nearly one hundred year tradition of hospitality.
Our Commitment to Quality Dining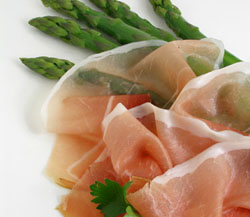 At Casa Bella, we appreciate and respect that everyone has different tastes and dining preferences. To accommodate all of our valued patrons, we are pleased to offer vegetarian dishes in addition to our daily menu. We are also sensitive to food allergies and our entire staff is committed to accommodating the needs of all who walk through our doors. When dining with us, if you have certain requests, please inform your server who will be more than willing to help you choose an exceptional meal to suit your personal preferences.
Giving Back
At
Casa Bella, we're passionate about social responsibility and committed to giving back locally. Through financial contributions, in-kind donations and volunteerism, Casa Bella supports initiatives that enable us to make a difference in our community. As a family-owned business, locally owned and operated, we're dedicated to improving the lives of the people in the neighborhoods where we live and work. In order to accommodate as many requests as possible, we ask for at least one month's notice. Please submit all requests in writing along with any electronic fliers and information about the charity. Please be aware that due to the volume of requests received; unfortunately, we cannot accommodate every request. We appreciate the opportunity to partner with you in your work for our community and wish you best of luck in your endeavors!
CASA BELLA RISTORANTE
Route 46 & Lakewood Drive
Denville, NJ  07834
973.627.2003
HOURS
Lunch:
Monday - Friday: 11:30 a.m. - 4:00 p.m.
Dinner:
Monday - Friday: 4:00 p.m. - 10:00 p.m.
Saturday: 4:00 p.m. - 11:00 p.m.
Sunday: 3:00 p.m. - 9:00 p.m.
EMAIL SIGN UP
Receive updates on specials and upcoming events.